This week has certainly been full of downtime, though not in the way I expected. Kicking this tummy bug has proved to be quite daunting, but I am feeling pretty hopeful that I am on the upswing. Finally.

I started feeling a bit nostaglic this week as I began to get serious about shopping for a few things we need for Little Sister. Thankfully, we have a wide array of baby gear and sweet girl clothes, but one thing I would really like is a new baby carrier. This got me thinking back to our first "real" carrier . . . a pouch sling.

I say "real" because my first foray into babywearing involved the unfortunate purchase of an Evenflo Snugli. I am sure these work wonderfully if the baby you are wearing doesn't top out the scales past the one hundredth percentile at each well-baby visit. D did. The Snugli was not a good choice for us.

By the time D was 4 months old, I realized I had a high-needs baby on my hands. She wanted to be carried all the time, everywhere. A friend of mine on a parenting message board posted about how happy she was with her recent Lucky Baby sling purchase, and when I began to investigate, I knew I had found what I was looking for. And so a Lucky Baby pouch sling became the first "real" carrier in our babywearing stash: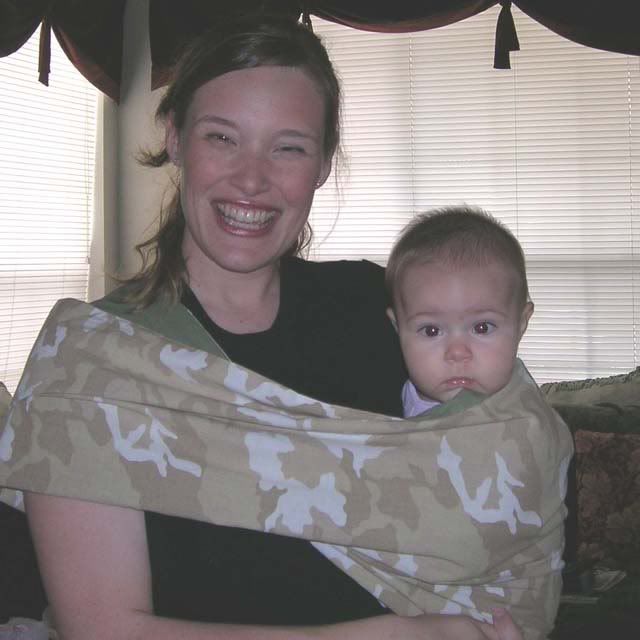 July 20, 2005 - who can believe it's been over two years?!

POUCH SLINGS - WHAT YOU NEED TO KNOW:

1) Pouch slings are sized. This means you will need to take careful measurements to get the best fit. A pouch sling that doesn't fit right will be uncomfortable for you and for baby.

2) Pouch slings are either padded or unpadded. The Lucky Baby (and pouch slings from mynestlings, another favorite company of mine) are unpadded. A very popular pouch sling that is padded is the Hotsling. These have a light layer of padding around the edge to allow for a cushier fit around baby's legs. Hotslings have become so popular, you can even find them at Target!

3) As long as you get a pouch sling with the right fit, I think these are a great "starter" sling. No ties, no buckles, no rings . . . just a simple design that has lasted through many eons of mamas needing to wear the baby. This is also a sling that could feasibly last you from infancy to toddlerhood, and the price point for this style of carrier is reasonable for those who are working with a tight budget.

Looking forward to questions and comments!