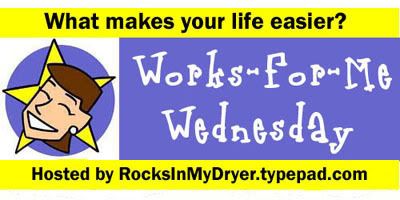 My very first ever Works For Me Wednesday post!

I didn't know until I started cloth diapering that the sun can be used to "naturally" bleach stains out of clothing (and cloth diapers!). Well, I guess I kind of knew this based on having ruined more than one book's cover by letting it sit in the backseat of my car far too long, but I didn't really KNOW I knew, know what I mean?

But it's true! If you have a stain on some clothing and it isn't safe to use bleach on it, simply dampen the stain (after washing) and let it sit in the sun. It may not happen immediately (although most of the time it does happen within two hours), but it hasn't failed me yet. Everything from blackberry juice stains to all manner of stainage on our cloth diapers has magically disappeared thanks to our sun.

For really stubborn stains, try adding a little lemon juice before sunning. If you use the lemon juice on the cloth diaper, make sure to launder it again before you put it on the babe.

Check out many, MANY more "makes life easier" tips at Rocks in My Dryer.